Austin, Texas, has been heating up since long before the pandemic. Now, home prices there are reaching unprecedented levels.
Over the past decade, prices for single-family homes in central
Austin
have risen 177% from an average of $212 per square foot in 2012 to $586 per square foot this year, according to data from Douglas Elliman. That kind of price growth has been evident in the luxury market as well.
"The whole state of Texas is seeing increased prices, and on waterfront properties, definitely—mainly because there is low inventory," said Tammie Bennett, a real estate adviser for Kuper Sotheby's International Realty.
"It's the quality of life," said Michael Reisor, an agent with Douglas Elliman. "You can spend the morning on a hike with a view of the city and then spend the whole afternoon at Barton Springs…There's a huge cycling lifestyle, yoga, everything."
Quality of life has been a motivating factor for remote workers since the pandemic. Then there are the professional draws. Some 100,000 employees are expected to head to Austin's downtown core over the next three years. Facebook's parent company Meta just signed the largest lease in Austin's history, and other companies including Tesla and Samsung are establishing stronger footprints there. It is not only tech companies—but a number of private-equity firms are also opening up shop in Austin and bringing relatively young employees in with their families.
Despite the city's popularity, there are still communities in the Austin area where luxury home buyers can realize upside. While a house with a glimpse of the lake in the leafy, central neighborhood of Tarrytown might cost you up to $8 million or $9 million, several areas just outside central Austin offer space, convenience, commutability—and, yes, lake views—at a fraction of the price.
Whether you are a young family relocating for work and looking for good schools, a power couple from New York looking for a change of pace and more space, or grandparents in search of a second home for family gatherings and outdoor recreation, look west—along the Colorado River or down into ranchland—and you just might find the deal you are after.
Dripping Springs
One area to look in is Dripping Springs, about 25 to 30 miles southwest of Austin on Route 290. It is a suburban community in the heart of ranchland with wineries, distilleries, breweries and restaurants. Since Covid, Mr. Reisor said, it has become "the hot spot for a lot of people coming from New York or northern and central California."
Homes between 2,500 and 3,500 square feet situated on up to 5 acres of land typically list from $1.25 million to $2.5 million, he said. One of his properties currently for sale is a 3,000-square-foot,
four-bedroom home
with an eco-build design on 5.2 acres of land, asking $2.5 million.
"So the pricing for something like that—some of them with a pool, some with a guest house—is nothing like you could get in Austin," Mr. Reisor said.
The developments have primarily been built between 2018 and 2020, and the community is located in a sought-after public school district. In addition to being a short drive away from the city, Dripping Springs is also minutes from the Hill Country Galleria, home to Whole Foods, box stores, boutique fitness clubs, and other amenities. What's more, short-term and Airbnb rentals are easier in Hays County than in Travis County, where Austin is located.
"Dripping Springs is about 30 miles from [central Austin] but it's one straight shot—one road and you're there," said Anna Lee, an agent with Moreland Properties, an affiliate of Christie's International Real Estate. "It's booming."
As of February, the average year-to-date sales price in Dripping Springs was $897,536, compared to $1.017 million in central Austin, according to data from Douglas Elliman.
"People have this idea of Texas that there's just a lot of land everywhere," Mr. Reisor said. "The standard lot size is between 7,000-12,000 [square] feet, and that's not really as big as some people would imagine that they can get in Texas, so they can sort of fulfill that dream in Dripping Springs."
Lake Travis
Another spot about 25 miles away from the heart of Austin is the Lake Travis or Lakeway area. According to Ms. Lee, that's "where all the building is taking place."
The area is close to the water and offers greenery and access to nature. It also has a good public school system and access to nearby amenities—including Whole Foods.
Ms. Lee said her clients moving from larger cities such as Chicago often come to Austin with the "Texas dream" in mind: land, a pool, and a modern home for a reasonable price.
"Inevitably, every time, we start in central Austin and by the third day we'll be out in Lake Travis," she said. "You can get an acre, a beautiful new construction, with a pool. Nowadays that will be more in the $2 million range…if it's a large home, $2 million to $3 million."
Prices for single-family homes in Lake Travis increased from an average of $138 per square foot 10 years ago to an average of $334 per square foot this year, with the average sales price, year-to-date as of February, at $910,592, according to data from Douglas Elliman.
Ms. Lee has recently toured the area with clients from Washington, D.C., California, and Brooklyn, New York.
"The prices to them are nothing compared to where they're from," she said.
Spicewood
A little further west along the Colorado River is the community of Spicewood. Situated about 45 minutes (or 35-40 miles) from central Austin, it offers lake access and space for much lower prices than the city.
"People say, 'Ok, I have a budget of a few million dollars and I want to be on the lake in Austin,'" said Mr. Reisor. "I tell them that's not going to happen because you can't be in the city of Austin and on the lake for anywhere near $2 million."
He said land value alone—"if we're just talking dirt"—would cost $10 million or more per acre on the lake in the city.
"So the next best thing, if you want to be accessible to Austin and either have lake access or views of Lake Travis, is going to be Spicewood," he said.
Mr. Reisor said that about three months ago, he helped a couple move from Portland for a "different pace of life." They were able to buy 8 acres of land in Spicewood with access to the lake, a boat slip and panoramic views for $1.3 million.
"If we're going by Austin prices, if you wanted to be on Lake Austin in the city, that would have been $80 million for that much land on the lake," Mr. Reisor said.
Prices for single-family homes in Spicewood have risen about 155% to $338 per square foot, compared to $133 per square foot in 2012, according to Douglas Elliman. The year-to-date average sales price, as of February, was $825,912.
"If people want water, I've helped actors and actresses moving from Los Angeles buy in Spicewood," said Mr. Reisor.'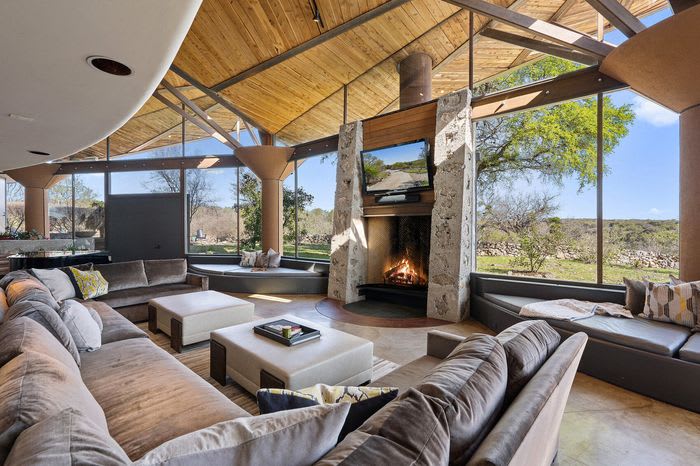 This $10.5 million, Spicewood, Texas, trophy property was architected by Austin's own John Covert Watson- a Frank Lloyd Wright apprentice.
Kuper Sotheby's International Realty
Lake Lyndon B. Johnson
If a second home is what you are after, you might consider looking in Horseshoe Bay, Granite Shoals, Marble Falls or elsewhere in the Lake Lyndon B. Johnson area.
Tammie Bennett, who covers the area for Kuper Sotheby's International Realty, said 90% of her market consists of the resort and second-home sales, and Austinites are a big feeder market.
"A lot of these folks own a second home and come here on the weekends for boating, fishing—there's a lot of golf up here, a couple of resorts," she said. "If you look at Lake Austin, their housing prices are much higher than they are on Lake LBJ."She said that, like elsewhere in the Austin area, Lake LBJ is low on inventory, with 35 properties currently available, ranging from $580,000 to $7 million.
One of her homes presently for sale is a four-bedroom, 3,585-square-foot
lake house
in Horseshoe Bay asking for $3.6 million. It is part of a waterfront community and within walking distance of the local yacht club and Horseshoe Bay Resort. She anticipates more properties coming onto the market in the spring.
"I have what I call three sets of buyers," Ms. Bennett said. The first set consists of younger couples looking for a place to bring their kids for "great memories of being raised up on the lake." She said she is surprised by how many clients in their mid-30s she has looking at $3 million lake houses.
The second set of clients are parents who are about to become empty nesters. "We're so centrally located, so if the kids are going to school in Austin, Houston, or anywhere in Texas, it's a good location to meet on the weekends," Ms. Bennett said. The final group is grandparents who want a home in which to "get all the family together," she said.
The Pay OffThese areas offer lower prices now but also a future upside, as agents expect prices both in central Austin and the surrounding areas to continue to rise. Mr. Reisor said there will be "no slowing" of the growth in Austin in the years to come because more office space is being leased and built in the city.
What's more, he said, agents are seeing a "perfect wave" of strongly motivated buyers that have been watching the market for some time but, worried about rising interest rates, have finally decided to engage. The combination of buyers who are incentivized to lock in rates and the already-tight inventories will push prices even higher in the months and years to come.
"It's like the old proverb, but modified," he said. "Of course, the best time to buy would have been 20 years ago, but the next best time is today. Even three years ago, homes would have been half this price, but now is that time you're going to be looking back on and saying, 'I wish I would have done it.'"